Sub-acromial bursitis. Overview by Physio in Tralee.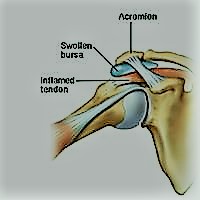 Sub-acromial bursitis is a common cause of shoulder pain that is usually related to impingement of the bursa between the supraspinatus muscle tendon and the acromion bone(see diagram). Bursae(single = bursa) are fluid-filled sacs that help reduce friction wherever tendons move under or over bone. The Supraspinatus muscle runs along the top of the shoulder blade and inserts via the tendon onto the top of the arm(humerus bone). This muscle is used to lift the arm up sideways . Above the supraspinatus tendon and under the acromion there is a bursa. When this bursa gets inflamed and swollen it can become trapped under the acromium bone of the shoulder causing pain and inflammation.
Symptoms
Symptoms of sub-acromial bursitis can be similar to those of supraspinatus  muscle/tendon injury within the shoulder. There will be pain and weakness in the arm, particularly when it is lifted sideways from the hip to overhead.  Pain at different levels 0f this 180 degree arc can indicate different injuries. If it is the tendon that is injured rather than the bursa somebody may be able to lift your arm over your head for you, with much less pain than you would have lifting your arm by itself. If you have a sub-acromial bursitis, especially if it is severe, neither you or another person will be able to lift that arm fully over your head. As the arm is lifted, there is increased compression on the bursa due to reduction within the sub-acromial space. This limits the upward movement of the arm  due to severe pain and restriction caused to the swollen/inflamed bursa. If a supraspinatus muscle/tendon tear is the cause of the pain, another person will be able to lift your arm fully over your head for you, with significantly less pain than you doing it on your own. This is  because they take over the function of the torn or injured muscle/tendon. These are important differences, as they often allow a practitioner to differentiate between both injuries .
What Causes It?
Sometimes, an injury damages the bursa in your shoulder. Overuse of your shoulder muscle can also cause damage. People who do a lot of overhead lifting and/or forceful pulling are at risk.  Sports  involving a lot of throwing or pitching can also irritate the sub-acromial bursa. Other factors that can help cause this type of bursitis include:
Your age. Bursitis in the shoulder becomes more likely as you age.
Poor posture with the shoulders arched forwards increases the risk of this injury. It causes impingement of the supraspinatus tendon and bursa by making the sub-acromial space smaller.
Poor shoulder flexibility/mobility.
Infection, arthritis, gout, diabetes, or thyroid disease can also cause issues.
Treatment
With very mild bursitis rest from aggravating activities and the use of non-steroid anti-inflammatories can be beneficial. A physio can loosen out the shoulder structure and give you exercises to improve shoulder posture, mobility and strength. In bad cases of bursitis, a cortisone injection into the area, done correctly, can bring full relief within days, especially if the condition is recent. Posture must be corrected, and aggravating activities reduced, thereafter, for long-term relief. For more troublesome recurring bursitis, a surgeon may need to remove the bursa altogether. Bursae do grow back, but now you have a new one to start afresh.
Physical Therapist in Tralee phone 086-7700191