About Us
We offer a different
approach to Physio
At my physiotherapy clinic in Tralee, I feel that I offer a different kind of approach to injury recovery and rehabilitation. I am degree qualified, fully insured and have over 9 years physiotherapy experience behind me, so you can rest assured that you are in safe hands. Physiotherapist treatment sessions are one to one, results focused and evidence based. My treatments are very hands-on and include osteopathic manipulations, deep tissue massage, dry needling and electro-acupuncture.  Rehabilitation programs are kept simple and injury specific.
Along with specializing in back, neck and sports injuries, I also have a keen interest in lower leg and foot injuries. For this purpose, I use one of Europe's top orthotic manufacturing facilities in the U.K., as I want only the best for my clients. Foot castings are taken, along with gait and foot analysis for each pair of orthotics. Each pair made is injury specific and manufactured in consultation with top podiatrists at our U.K. manufacturing facility.  Check out our extensive range here.
Feel free to ring me and to discuss your injury, or  get a second opinion, without any pressure to make an appointment.
Also Check out my new start-up here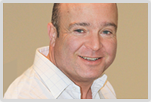 Eddie O' Grady
Physiotherapist (M.I.A.P.T.)