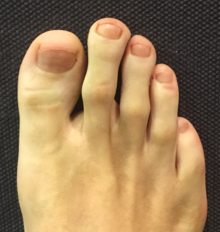 Morton's foot and pyridoxal 5′-phosphate deficiency: genetically linked traits.
I came across an extremely interesting article lately regarding Morton's foot and vitamin B6 deficiency. A lot of what I say in the article comes from scientifically published research referenced at the end of the article. Apologies if some of it is a bit technical. I have tried to simplify it while keeping the content intact.
What is Morton's foot?
A Morton's foot  also  called Morton's toe, is a condition characterized by a longer second toe.
Pathophysiology
Morton's Toe will cause an individual to have abnormal or over pronation.  It is this pronation that is the ultimate cause or contributing factor to most of the problems not only of the foot but also of the whole body.
Normal Pronation is a series of motions the foot must have, so that it can absorb the shock of meeting the ground. It must be able to do this, in order to adapt and adjust to the new walking surfaces it has just met. This adjustment should only last a fraction of a second to allow the foot to slow down; absorb the shock of your body weight in order to adjust and adapt to the walking surface. If this adjustments last longer, the foot will then begin to abnormally pronate and to correct itself. This is the start of a "chain reaction" that puts the foot under a lot of abnormal stress and strain, causing  Bunions, Heel Spurs, plantar fasciitis, Corns, Callouses, ingrown toenails and numerous other foot problems.
Vitamin B6 deficiency
Vitamin B6 is an essential vitamin needed for many chemical reactions in the human body. It exists as several active forms but pyridoxal 5′-phosphate (PLP) is the phosphorylated form needed for transamination, deamination, and decarboxylation. PLP is important in the production of neurotransmitters, acts as a Schiff base and is essential in the metabolism of homocysteine, a toxic amino acid involved in cardiovascular disease, stroke, thrombotic and Alzheimer's disease. Nichols and Gaiteri(2014) showed the connection between a deficit of pyridoxal 5′-phosphate and the physical foot deformity known as the Morton's foot. Morton's foot has been associated with fibromyalgia/myofascial pain syndrome. PLP deficiency also plays a role in impaired glucose tolerance and may play a much bigger role in the obesity, diabetes, fatty liver and metabolic syndrome. Without the Schiff-base of PLP acting as an electron sink, storing electrons and dispensing them in the mitochondria, free radical damage occurs.
Summary
To put this all very simply : Vitamin B6 is an essential vitamin needed for many chemical reactions that take place within the human body. This vitamin is obtained from your diet. The genetically linked condition of "Morton's toe" has been linked to the inability to convert Vitamin B6 into the active form pyridoxal 5′-phosphate needed for cetain chemical processes in the human body. This in turn can lead to conditions seen with vitamin B6 deficiency. Some of these conditions include:
Anemia
Skin/Hair/Nail problems
Depression/Anxiety
Nerve damage
Pain syndrome development
Systemic Inflammation
Circulation problems, including oxygen transport
Hormone Issues
Seizures
Do not take a B6 supplement, or "b-vitamin complex" and expect it to help. It won't.
You need the activated form of B6 called P5P. This is the only form that your body can use.
Physiotherapists in Tralee.  Open early until late. Phone 086-7700191