When Back Pain Is A Symptom Rather Than A Condition
Back pain may sometimes be a symptom rather than a condition as such. A practitioner needs to always keep this at the back of their mind when treating or assessing somebody. Sometimes things need more investigation. A good physio will spot this early and refer you on quickly to your G.P. for further examination. It is always better to play it safe if in doubt.  I always believe you should be seeing improvement in your condition from treatment to treatment. If there is no improvement after several treatments you need to be asking yourself a few questions i.e. Do I need to try a different physio or do I need to consult my doctor for a second opinion. Sometimes the proper treatment protocol for a condition is all that is needed for a swift recovery. The list below is not meant to be alarmist. It is more to emphasize the fact that continuous unrelenting back pain can be a symptom of something else going on within your body.
Below are examples of conditions/medications etc. that may have back pain as a side effect/symptom.
kidney stones – A kidney stone may not cause symptoms until it moves around within your kidney or passes into your ureter (the tube connecting the kidney and bladder). At that point, you may experience symptoms such as severe pain in your side and back below the ribs, or pain that radiates into the lower abdomen and groin.
Lupus is a long-term autoimmune disease in which the body's immune system becomes hyperactive and attacks normal, healthy tissue. Symptoms include inflammation, swelling, and damage to the joints, skin, kidneys, blood, heart, and lungs. Lupus can cause neck and back pain, because muscles in these areas can become inflamed due to the lupus. Furthermore, the muscle pain syndrome  "fibromyalgia"  can cause pain in these areas and is commonly associated with lupus.
Spinal arthritis/facet joint arthritis causes stiffness and back pain.
Cancers – A primary bone cancer tumor in the spine can cause back pain, as can a number of other cancers when they have metastasized(spread to other sites in the body), such as breast cancer, testicular cancer, colon cancer, and lung cancer. In fact, back pain is often the one of first symptoms that people with lung cancer notice before they are diagnosed. A tumor in the lungs can put pressure on the spine, or can affect the nerves around the chest wall and spine.
Spondylosis a painful condition of the spine resulting from the degeneration of the intervertebral discs.
Spondylitis is a condition resulting in inflammation within the joints of the spine. As the inflammation goes and healing takes place, bone grows out from both sides of the vertebrae and may join the two together, causing a stiffening known as ankylosis. The progressed condition is called ankylosing spondylitis. The cause is not yet known.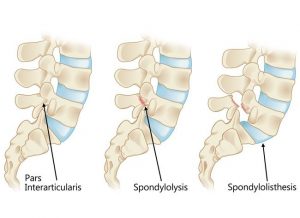 Spondylolisthesis is a slipping of vertebra that occurs, in most cases, at the base of the spine.
Spondylolysis is a defect or fracture of one or both wing-shaped parts of a vertebra, can result in vertebrae slipping backward, forward, or over a bone below.
Spondylosis, Spondylitis, Spondylolisthesis, Spondylolysis all have back pain as a symptom.

Fractures – Even a minor fracture along the spine  can cause considerable back pain.
Statins – Statins are drugs that can help lower your cholesterol. One of the more severe side effect of statins is myotoxicity(having a toxic effect on muscle), in the form of myopathy(a disease of the muscle in which the muscle fibers do not function properly. This results in muscular weakness), myalgia(muscle pain), myositis(inflammation and degeneration of muscle tissue) or rhabdomyolysis(a condition in which damaged skeletal muscle breaks down). Currently, the only effective treatment of statin-induced myopathy is the discontinuation of statin use in patients affected by muscle aches, pains and elevated creatine kinase levels. Creatine kinase are the clinical measure of muscle damage (rhabdomyolysis).
Anticonvulsant drugs such those used in the treatment of conditions like epilepsy can cause changes in calcium and bone metabolism. This may in time lead to decreased bone mass and a risk of osteoporotic fractures in the spine which may also result in severe back pain. Two widely used antiepileptic drugs phenytoin and carbamazepine are recognized to have direct effects on bone cells.
Corticosteroids – Longterm use of corticosteroids increase the risk of compression fractures in the spine(back).
Neurological Compromise — A Red Flag
Neural compromise can result from spinal cord or cauda equina compression . Cauda equina compression usually results from a fracture, tumor, epidural hematoma, or abscess, and occasionally from a massive disk herniation. Paraplegia(impairment in motor or sensory function of the lower extremities), quadriplegia(paralysis caused by illness or injury that results in the partial or total loss of use of all four limbs and torso), or cauda equina deficit should trigger an aggressive search for the cause.
Cauda equina compression classically presents with back pain, bilateral sciatica(pain down the back of both legs), saddle anesthesia, and lower extremity weakness progressing to paraplegia, but in practice these symptoms are variably present and diagnosing the condition often requires a high degree of suspicion. Hyporeflexia(no reflexes) is typically a sign of cauda equina compression, while hyperreflexia(overresponsive reflexes), clonus(series of involuntary, rhythmic, muscular contractions and relaxations), and the Babinski sign(see below *)  suggest spinal cord compression, requiring an evaluation of the cervical and thoracic spine. Cauda equina compression typically involves urinary retention; in contrast, cord compression typically causes incontinence. If either cauda equina or spinal cord compression is detected during an initial examination, an immediate more extensive evaluation is warranted. MRI is the study of choice.
*(The Babinski reflex occurs after the sole of the foot has been firmly stroked. The big toe then moves upward or toward the top surface of the foot. The other toes fan out. This reflex is normal in children up to 2 years old. It disappears as the child gets older. It may disappear as early as 12 months. When the Babinski reflex is present in a child older than 2 years or in an adult, it is often a sign of a central nervous system disorder. The central nervous system includes the brain and spinal cord.)
Spinal epidural hematoma
Spinal epidural hematoma is a rare but dramatic cause of paralysis in elderly patients. In most cases, there is no antecedent trauma. Lawton et al. (1995), in a series of 30 patients treated surgically for spinal epidural hematoma, found that 73% resulted from spine surgery, epidural catheterization, or anticoagulation therapy. Other possible causes of epidural hematoma include vascular malformations, angiomas, aneurysms, hypertension, and aspirin therapy. The same study found that the time from the first symptom to maximal neurologic deficit ranged from a few minutes to 4 days, with the average interval being nearly 13 hours.
Although painless onset has been reported, spinal epidural hematoma typically presents with acute pain at the level of the lesion, which is often rapidly followed by paraplegia(impairment in motor or sensory function of the lower extremities) or quadriplegia(is paralysis caused by illness or injury that results in the partial or total loss of use of all four limbs and torso), depending on the location of the hemorrhage. Sometimes the onset of pain is preceded by a sudden increase of venous pressure from coughing, sneezing, or straining at stool. Urinary retention often develops at an early stage.
Most lesions occur in the thoracic region(rib area of back) and extend into the cervicothoracic(upper back and neck) or the thoracolumbar(ribs to lower back area) area. The pain distribution may be radicular(affecting or relating to the root of a spinal nerve), mimicking a ruptured intervertebral disk.
Evaluation should be with MRI. Early recognition, MRI confirmation, and treatment should be accomplished as soon as possible. Recovery depends on the severity of the neurologic deficit and the duration of symptoms before treatment. Lawton et al.(1995), found that patients taken to surgery within 12 hours had better neurologic outcomes than patients with identical preoperative neurologic status whose surgery was delayed beyond 12 hours. Surgery should not be withheld because of advanced age or poor health: in 10 reported cases in which surgery was delayed, all patients died.
For more about treatments and opening times etc. click on our homepage