Instrument Assisted Soft Tissue Mobilization – Physio Tralee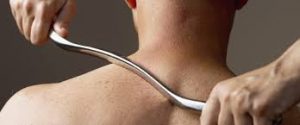 Instrument Assisted Soft Tissue Mobilization (IASTM) is a process in which the clinician uses a set of ergonomically designed hand held instruments to break down the scar tissue and fascial restrictions in soft tissue (muscles, ligaments, tendons, and fascia ). The instruments you see in the photo are made of surgical grade stainless steel. Hypoallergenic aqueous cream or massage oil is used to facilitate gliding of the instrument along the muscle, tendon etc. during treatment.  The technique itself is said to have evolved from a form of Traditional Chinese Medicine called Gua Sha.  IASTM is a is a procedure that is growing  rapidly in popularity due to both the effectiveness and efficiency 0f the technique.
Once the damaged areas are detected, the instruments are used to deliver controlled microtrauma to the affected area. The purpose of the microtrauma is to stimulate a local inflammatory response, which initiates reabsorption of excessive scar tissue and facilitates a cascade of healing activities. Adhesions within the soft tissue that may have developed as a result of surgery, immobilization, muscle tears, or repetitive strain etc., are broken down, allowing the patient to regain function and range of movement. This treatment is a little intense, but it is extremely effective. It is somewhat similar to "deep tissue massage" and/or "rolfing", but I always feel more is achieved in a shorter time-frame with IASTM technique . As in any Manual therapy treatment, it is usually not the only modality used. Supplementation with  stretching/strengthening exercises  etc. designed to correct biomechanical deficiencies by readdressing musculo-skeletal strength and imbalances  may also be prescribed  in conjunction with IASTM. I have used this form treatment both on myself and clients to great effect.
Physiotherapists and Physical Therapists in Tralee. Open 7am – 10pm weekdays and 8am – 2pm Saturdays. Phone 086-7700191